From guitar classes to piano home tutors in Singapore as well as other musical instruments. Why choose us?
Why Choose Us?
Absolutely In-Tuned is a well-established go-to music tuition agency providing home-based lessons for many households in Singapore.
Since 2010, we have been helping parents, children, teenagers and adult music enthusiasts from all walks of life fulfill their musical dreams especially in piano or guitar classes Singapore.
Whether your interest lies with classical music like the piano or classical guitar; or pop music like acoustic or electric guitar, pop piano / keyboard, and drums; or string instruments like the violin, viola or cello; or wind instruments like flute and saxophone; or simply love honing your vocal singing skills!
Feed your soul and learn an instrument today! Guaranteed agency support at all times.
Find yourself a music teacher in 4 easy steps!
Step 1: Request for a Teacher
Let us know which instrument you are interested to learn. Fill up our Teacher Request Form and you are done within 3 minutes! We will do the rest!
Step 2: Hear From Us
We will sift through our extensive database and shortlist some suitable teachers for you to choose from.
Step 3: Choose
Choose your music teacher by looking through the various profiles and rates.
Step 4: Hire
Set up your first appointment with your music teacher and commence lessons!
Testimonials from Happy Students!
I also find the staff to be reliable, friendly, helpful and knowledgeable.
I want to learn simple piano keyboard. I approach Absolutely In Tune and they have Cherrie to be my teacher. She is very patient towards me and show me how to go about. I find Cherrie to be very patient, helpful and friendly which makes me enjoy the lessons. I'm grateful to Absolutely In Tune for matching me with Cherrie. I also find the staff to be reliable, friendly, helpful and knowledgeable. I will not hesitate to recommend Absolutely In Tune to anyone who is interested in taking up music through them as they have reliable and experienced music Teachers in their database
"Best Guitar Teacher Ever! I was unhappy with my previous guitar teacher who was not helping me much with my progress. Audrey found a suitable guitar teacher within 1 day and he is brilliant! He is so experienced and makes the lessons fun. I really enjoy every lesson so much!"
"Playing Songs Is Such A Breeze Now! Pretty amazed with the service. Found me an excellent guitar teacher located in my area, within 1 hour. My guitar teacher Chin is very patient and understanding. And he is able to explain concepts well. I have learnt to play the songs by myself, within one month!"
"I perform for the church now! As the key guitarist! – I always played a few chords here and there. Finally took the plunge to learn lessons. Now, my skills have improved dramatically and I'm serving my church through music."
"I'm rocking Like A Rock Star Now! – Taking up the guitar lessons is one of the best decision as I am loving every minute! I can play all my favourite rock songs now. Its fun and makes me feel like a real star! In fact, i plan to join a competition shortly!
"Playing My Favourite Jazz Songs – After 1 Month! Finally got down to registering myself for guitar lessons. Now, I love playing my fav jazz songs during my leisure time. Very professional jazz teacher and I enjoy every lesson. Worth every dollar and minutes!"
Now, I Am A True Blue Jazz Guitar Player! – After failing to learn it by myself, I finally gave up and signed up for lessons. Within 1 month, I overcame all my challenges and was playing beautifully. In the 2nd month, I started my own band and love jamming with them during weekends. Now, we are even thinking of performing live! How amazing my progress has been!Thank you for introducing the amazing guitar teacher!
I have been looking around for private guitar lessons to accommodate to my busy schedule. Jeff makes the lessons very fun and enjoyable.
Impressed By My Teacher's Teaching! Inspired by rock stars, I wanted to learn to play the electric guitar as quickly as possible. My guitar teacher, Adrian impresses me on how he simplifies playing the electric guitar through his teaching!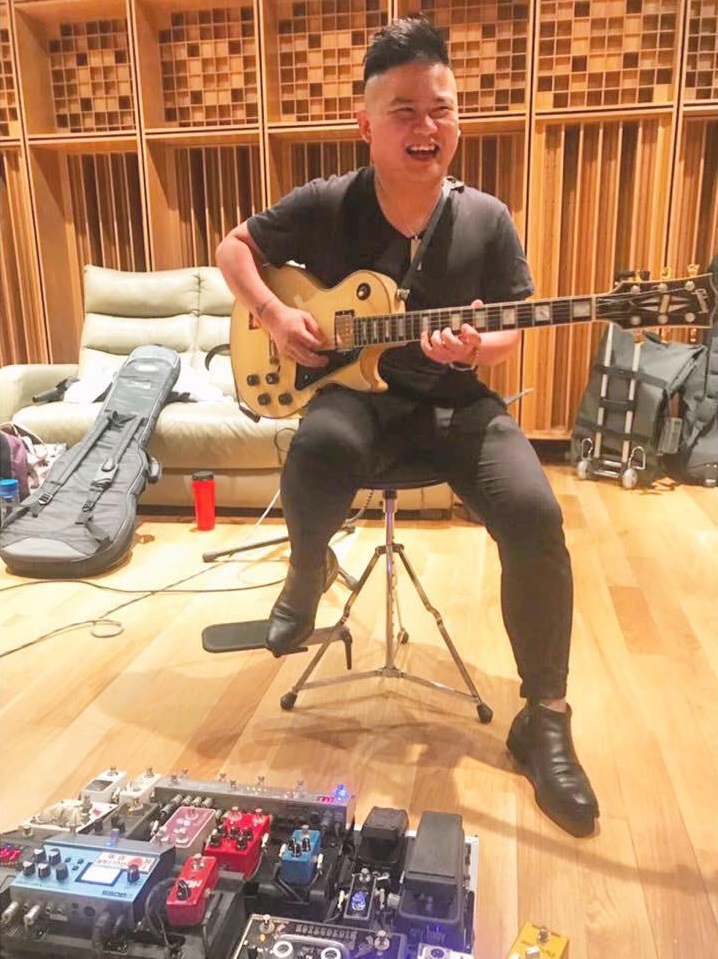 Alex G. Lim
Alex is an extremely skilled and knowledgeable guitarist who knows his game inside out. But it doesn't stop there, skilled guitarists May or may not be great Teachers, Alex's expertise stretches beyond his own skill to exceptional teaching and observational skills which not only identify what you're doing wrong but also on how to correct it.
He is extremely patient and never puts you down. He is committed 110% to your time and does his level best to help you make the most out of it. After just one session he knows your potential more than you do yourself. After just 3/4 lessons I already felt that I have achieved things that I thought would only come to me after slogging through 10 maybe 15 lessons.
He has no pet subjects or exercises, rather a whole Arsenal of exercises which he develops on the spot for you to build on what you're lacking using just his observation. He doesn't stop at just making you learn a song but in fact the value that you get out of a song in terms of playing techniques and exercises which would then help you towards other songs and future goals.
The sense of achievement and progress you get out of every lesson has no price to it.
When you are in a mental block and unable to move on, he explains things in such a simple way that just clears the fog in your mind and helps you breeze through what you thought was an unsurmountable obstacle. He has a way of letting you learn from self-discovery instead of butting in every now and then to tell you what you're doing wrong unless he really needs to. This for me is the best form of adult learning which actually sticks stronger than just following someone's commands.
My utmost respect for Alex stems from the fact that he Focuses on making you an independent learner rather than relying on his lessons solely which goes to show how selfless and how much of a true guru he is.
Finally I must say that I am so lucky to have met him, and my opinion gets solidified even more when I speak to some of my other friends who tell me about their experiences with lessons.
All in all a godsend for all guitar learners!
Amazing Progress In Justin In Simply 2 Months!
Justin has always wanted to learn to play the cello. And when he started the lessons, he loved it even more and simply impressed us when he performed during family events. Thank you for introducing Jane, such a professional and caring cello teacher!
Glad That I Finally Got Down To It, After Procrastinating My Entire Life!
Always fascinated with the cello. I finally signed up and really enjoyed it a lot. Now, I am looking into joining a performance band. One of the best decisions that I made! Thank you for your fast and efficient response.
I mastered the guitar within 1 month! Amazing!
I have always been inspired by famous guitarists in the music world. Thank goodness, I hired a guitar teacher who has taught me tricks on how to play the guitar well. Now, I can play my favourite songs after 1 month!
Got my guitar teacher within 1 hour and can play well within 2 months!
Well, after 2 months, I can play my favourite songs. I love playing the guitar now!
Sophie is going to be a guitarist star with her progress!
For Sophie's fifth birthday, we decide to buy her a guitar and sign her up for guitar lessons. Thanks Audrey for making the search for a suitable guitar teacher as painless as possible. And Sophie adores her current guitar teacher!
"Very efficient and professional services!"
I always yearned to play my favourite blues songs on guitar. Audrey organized the lessons very quickly & efficiently. Now, I can sing and play my songs very well. Thanks.
Fantastic Service! Great Teacher!
I really enjoy my guitar lessons a lot! I am glad that I signed up during my school holidays and learnt to play pop songs that I like. Now, I play with my friends during the weekends and its amazing! Thanks Audrey for the excellent service provided!
I finally achieved my dream of playing guitar. Thank you!
Love the guitar lessons. I have finally learnt to play the guitar which was my dream for many years. Thank you Audrey for your good service.
I achieved my goal of learning to play the guitar within 3 months!
Learning the guitar has always been one of my goals in life. I wanted to learn it fast, despite having no background in music. Thank you for helping me select such a professional guitar teacher who has helped me play the guitar very quickly.
I'm Loving Every Minute!
After playing casually for 2 years, I finally decided to pursue it more seriously. My guitar teacher is amazing and has taught me simple tricks and tips to improve my techniques!
Cong loves playing the guitar since I signed him up for guitar lessons!
He has been motivated and practices hard everyday. I am glad to see him cultivate an interest in a musical instrument instead of watching TV the whole day!
After The Lessons, Strumming Used To Be One Of The Most Challenging Aspect. Now It Is My Favourite.
In the beginning, I always struggled with strumming. However, my guitar teacher, Rashid has taught me unique techniques and concepts that makes it fun and easy. Thank you!
Sally loves her guitar teacher! Sally cannot get off the guitar ever since she attended the guitar lessons. She really looks forward to every guitar lessons! We are happy with her progress.
Always Struggled With Guitar Plucking Techniques But Not Anymore.
After learning to play for 2 years, I couldn't master plucking techniques. However, after 3 lessons it finally made sense and I was plucking pretty well. Amazing that I could become so much better with a few easy tips! Wonder why it took me so long!
Sasha Performs For The Family Now.
It is really easier for Sasha to learn the ukulele and she has impressed everyone with her ukulele skills.
Patsy Is Addicted To The Ukulele Now! 
Ever since she started her lessons, she keeps practicing everyday! Thanks for your fun lessons.
Enjoying It A Lot
Thanks for the fantastic coordination and classes. I really enjoy my ukulele lessons as it is very detailed and fun. Now, I can play a musical instrument, finally!
I Can't Believe I Can Play A Musical Instrument!
Always wanted to play one but always assumed that I had zero talent but now I proved myself wrong! Thanks!
Now, I Am A Cello Player In 4 Months!
Thanks for introducing Jenny, as she is an amazing cello teacher. She makes cello lessons fun and interesting. My progression has been amazing and I love playing the cello now!
Hui Yi Is So Proud Of Her Cello Playing Skills And Making Me So Proud!
She looks simply adorable playing the cello! And she has even performed for her class during show and tell! Now, she tells me that she wants to be a professional cello player!
Highly Recommended!
When I hit grade 6, I couldn't find a professional enough cello teacher to groom me. After searching high and low, I called Stacy. My cello teacher, Gerald is excellent and provide the perfect platform to master the cello easily and quickly. Thanks!
Finally, I Can Play The Cello.
I learnt the cello one year ago as I was not mastering it with my previous cello teacher. Losing interest quickly, I stopped lessons. Finally, one year later, I decide to give it a chance and called Stacy. Her teacher, Kondra was professional and made the lessons fun and easy. Within weeks, my skills improved.
Sarah Simply Loves Her Cello Lessons!
When she started requesting for cello lessons, I was worried that she would lose interest. However, under the guidance of Mr. Tan, she loves it even more and has improved tremendously.Thank you for recommending such an excellent cello teacher!
He Looks So Serious During Drumming Lessons
Justin has been pestering me for drumming lessons for one year. Finally, caved in and registered him. Now, he is so focused during his drumming lessons. So proud of him!
My Little Drummer!
Chris could not stop drumming ever since he started lessons. Now, he has his own drum kit and he is jamming in his "music" room. I call him my drumming prodigy!
He Is Passionate About His Drum Lessons!
Francois always loved drums since young and finally we registered him for lessons. He looks so cute, playing his drum!
I Love My Drum Lessons
Finally, got down to organizing drum lessons. And I am so glad that I did it as I love my lessons so much! It is so fun and relaxing and I see improvement every lesson!
Learning The Drums Is Easier Than I Thought!
I always loved the idea of being a drummer. Never knew that it was so easy! Thanks Sarah!
I Hope To Perform In The Future
After playing the guitar for some years, I wanted to learn another instrument. I like the drums even better now!
Thanks For Fun Lessons
Most of the drum schools were too far away for me. And Jack introduced a drum teacher near my place. He is a fantastic drum teacher too!
Love Drumming!
Simple drumming lessons, even for the music idiot! Highly recommended!
Fun & Inspiring Drum Lessons
If the speed of the response represents the quality of the lessons, I would give it A++!
Thanks For The Fast Response
Love the speed of the work!
Jamming Is My Life!
I wanted to improve my skills and called Sarah up. My drumming teacher, Jeff is amazing!
Finally, At Retirement, I Became A Musician!
All my life, I have always wanted to play an instrument. Sadly, only after retirement, I had time. No regrets now as I can drum pretty well now!
Drumming Lessons Are Very Fun
Initially, I was a bit worried about learning drums as I had no musical background.
Sarah introduced Jerry, who is an amazing drum teacher and I have mastered the drums pretty quickly. Thanks!
Fast response. Extremely helpful. And great drum lessons.
Really a pleasure to work with Sarah, so efficient! Fast and responsive. Thanks for the great drum lessons too!
I Drum My Life Away!
After taking up drumming lessons, I just couldn't stop learning different variations of drumming! I will continue my passion to master different forms of drums. Thanks for the great introduction!
Discovered My Passion Through The Lessons
After I started lessons, it just got more interesting and I had to jam with friends. So here I am!
A Performer Now!
Thanks for the fun and inspiring lessons! Now, I have a band which I perform with!
Melody Is Very Committed To Mastering The Flute Well.
I was surprised when she could start playing after 2 lessons. Rather well in fact. Thanks for introducing such a good teacher.
Fun & Inspiring!
The group lessons for flute were very fun and helped us bond together for church.
Charlotte Impresses Me With Her Flute Skills!
After 3 lessons, I could hear Charlotte playing quite nicely. Thanks for guiding her!
Thank You!
My Flute Teacher is very patient and explains concepts very well. I enjoy every lesson and see improvements every week. I highly recommend Flute Lessons Singapore as they are very helpful.
I Can Play The Flute Now!
Always thought I had zero music talent but now I realized that I do! Thanks so much!
I Really Like The Flute Lessons!
Have been thinking of playing the flute since young. Finally registered for lessons! Best choice ever since I really enjoy them so much!
Playing The Flute Is Actually Quite Easy
I was worried as I had no experience in playing the flute. However the lessons were fun and I picked up the skills quite quickly.
Thanks For Your Fun Lessons
Enjoyed the insightful lessons and finally played a tune after 2 lessons!
I Really Like Playing The Flute! Thanks!
I always had an interest in playing the flute and finally registered for some lessons. Now I play the flute to de-stress after school. And its relaxes me.
Clara Enjoys Her Flute Lessons A Lot! Thanks
After learning trumpet, guitar and clarinet, Clara wanted to learn flute. Now, she can play beautifully! Thanks so much!
Jessica Has Been Recognized As Gifted By Her Teacher
I have always wanted to sign her for lessons and finally decide to work with Keyboard Lessons Singapore because of the convenience of having lessons at home. After 3 months, Anna, the teacher encouraged me to get Jessica graded for exams because of her excellent performance. Now, she is grade 3, without any sweat. And I think she has got talent. In addition, she is much more confident. I am so glad that I made this decision.
Srivat Looks Forward To His Keyboard Lessons
He has always wanted keyboard lessons and finally we gave in. Now, I am glad as he is much more confident and happy whenever he is playing his keyboard. Thanks for your wonderful teacher!
Thanks For The Fun Lessons!
I have always wanted to play the keyboard and now I am really a keyboard player! The lessons really remove the haze about music and makes it easy to comprehend. In fact, I wonder why I took so long to register for lessons. Thanks!
Sheela Loves The Keyboard
Ever since she started the lessons, she picked it up very quickly and seems to be enjoying it a lot. She spends one hour practicing and rehearsing. I am sure she is going to be a great keyboard player!
Can't Believe That It Was So Easy
No musical background, no idea that I had music talent, however I signed up for keyboard lessons. Lee Ann, my teacher kept insisting that I master the foundations techniques. After that, it was very easy to play the keyboard. Thanks for the excellent customer service and services!
I Perform Now!
After learning for 6 months, I joined a band and perform for some small events. Thanks for helping me discover my inner musician!
I Love Playing For My Church
Took up keyboard lessons to play for church. After 2 months, I registered for the church's choir and now I play with them. It is very fulfilling and I am glad I took up keyboard lessons.
Cheerlyn Loves Her Keyboard
After being pestered for several months, we caved in and got her keyboard lessons. She loves them and has been practicing everyday.Thanks!
It Is My Favourite Hobby
Finally, registered for keyboard lessons. Now, I really enjoy jamming after work. In fact, I look forward to forming a band with my friends. Thanks for the fun and inspiring keyboard lessons!
Sarah Is A Keyboard Prodigy
She looks so cute playing her keyboard and sets aside one hour to practice it. I am glad that your keyboard teacher made her love playing the keyboard.
Love Our Keyboard Lessons!
We were able to play simple tunes on our keyboard after 4 lessons. Thanks for the fun lessons!
Thanks For Excellent Customer Service.
When I arrived in Singapore, I wanted to continue my saxophone lessons. Thank goodness, I found your website and contacted you. Thanks for introducing such a great saxophone teacher and providing useful information on buying a saxophone. I was really impressed with your service. Thanks!
Now I Can Play The Saxophone!
I have always wanted to play the saxophone but never had the time or money when I was younger. Now, I finally took action and called up. I am glad as the response was quick and professional. I also really liked the teaching methodology of my saxophonist teacher. He simplifies and make it easier to handle the new motor-skills of playing the saxophone. Highly recommended!
I Enjoy Relaxing With My Saxophone Every Night.
Wanted to learn the saxophone to relax after a tough day at work. And it became a passion! Now, I have even found a band to perform with! Thanks for your great introduction. I am impressed with the rapid progress in my skills and abilities.
I Perform For School Now.
Thanks for introducing such a good saxophone teacher! He really makes lessons fun and interesting. After 6 months of lessons, I joined the school band and have progressed to becoming one of the saxophone players. Never thought it was possible but it is now!
Paul And Sandy With Their New Saxophones!
My children have been pestering me to learn the saxophone for years and I finally gave in. I am glad as they love playing the saxophone now. Thanks for introducing such professional teachers!
Here Comes The Musician!
I have always thought that I had zero, no, minus musical talent. Luckily, I didn't give up on myself and decide to take up saxophone lessons. Now I can play it confidently and well! Thanks.
Thanks For Your Amazing Service.
Sammy loves music since he was young and kept learning different instruments. When he requested for the saxophone, we thought he was too young but your teacher made it interesting and he has even performed for several family gatherings. Thanks again.
Paul Enjoys His Lessons. Thanks!
Ever since he started listening to jazz songs, he has expressed interest in saxophone lessons. Now, he has been learning for one month and we see the passion and improvements. Thanks for introducing the teacher so quickly! And he is very professional too.
Daniel Is So Proud Of Himself Now
Daniel always wanted to play the saxophone and we finally bought him one. And registered for classes.
Within one month, there was rapid progress. Now, he is very determined to master the saxophone and we are so proud of him!
Jesline Enjoys Her Lessons A Lot!
Ever since she took the lessons, she has been playing the saxophone lesson at home. It is a joy to see her rapid progress from lesson 1 to now.
Thanks for introducing such a great saxophonist teacher! I will definitely refer your company to friends who are keen to learn saxophone
Thanks for Your Interesting Lessons
Always wanted to play Saxophone as I loved Jazz music. Now, I can play simple tunes on the radio and it makes me so excited! Thanks for your fast response and introducing such a professional teacher to me!
Efficient Service Made Finding A Teacher A Breeze!
I was trying to find a violin teacher for a long time. Luckily, I chanced across your website and found a violin teacher within days! Thanks for being so efficient.
Finally, A Violinist at 27 Years Old!
Initially I was worried about my ability to play the violin as I had zero musical experience. Surprisingly, within a few months, I was able to play simple tunes.
My Violin Techniques Have Improved A Lot!
Played for 3 years and was looking for a better violin teacher. Rio is an amazing teacher and I am so much better now.
I Can Play The Violin! Only Took 6 Months!
Finally took action and registered myself for lessons. Now, I have achieved my dreams.
Finally, Mastered The Violin At 45 Years Old!
After learning for only 3 months, I can play a decent tune!
Sally Loves Her Violin Lessons And Is Playing Beautifully Within 4 Months!
She always has fun during her lessons and has improved a lot. Thank you for introducing Jealine, she is amazing!
I Fell In Love With The Viola's Deeper, Richer Tone The Very First Time I Heard It.
It's satisfying to master and I like its quirky reputation.
You Found Me A Much Better Cello Teacher! Thank you!
I wasn't very happy with my current cello teacher and was seeking an alternative. Within one day, you found a highly qualified cello teacher and I am very happy with him.
Found A Violin Teacher Within Days
I was trying to find a violin teacher for a long time. Luckily, I chanced across your website and found a violin teacher within days! Thanks for being so efficient.
I Thought I Wasn't Musically Inclined
Thank you for the fun and being patient with me. Now I have finally overcome my worry about not being musically inclined!
Recognized As Gifted Within 2 Months!
Within 2 months of learning, Michelle started exhibited extreme interest in playing the violin. And now her music teacher has commented that she will easily pass 2 grades next year! Thank you for recommending Ser Lim Hui! She is amazing!
From Zero Experience To Playing Tunes!
Initially I was worried about my ability to play the violin as I had zero musical experience. Surprisingly, within a few months, I was able to play simple tunes. I look forward to expanding my library to songs!
Dalphine Performs In School Now!
Thank you for the amazing violin teacher!
She's Only 5 But Confident Enough To Perform For The Family!
Never knew Ling Ting's talent until I signed her up for the violin lessons. Her progress has been amazing! Thanks!
We Joined The Orchestra Within 6 Months!
Initially I was worried about my ability to play the violin as I had zero musical experience. Surprisingly, within a few months, I was able to play simple tunes. I look forward to expanding my library to songs!
Thank you for the fun and being patient with me. Now I have finally overcame my worry about not being musically inclined. I know I can play the violin. It was much easier than I expected!
I Mastered The Violin in 3 Months – My Violin Teacher Is Amazing!
I was always interested in learning to play the violin but was worried about learning it as an adult. Now I even perform for my friends!
Found One Amazing Violin Teacher Within 2 Days – We Had Been Searching For Months!
In addition, the violin teacher is exceptionally experienced with children and makes lessons fun for Shirley.
Finally, A Violinist At Age 32!
I can play the violin! Only took 6 months! Finally took action and registered myself for lessons. Now, I have achieved my dreams!
The Right Teacher Really Improved My Technique!
Played for 3 years and was looking for a better violin teacher. Rio is an amazing teacher and I am playing so much better now."
No Music Background – And I Still Did It!
Initially I was worried about my ability to play the violin as I had zero musical experience. Surprisingly, within a few months, I was able to play simple tunes.
Singing has never been a problem for me and I am able to hit many notes with ease.
What Aaron did was to teach me how to utilize my voice better, to add depth and variety to my singing, as to make my singing more engaging and interesting. I have learned a lot about harmony singing from Aaron and looking forward to learning more much in the future!
I have been a long time student of Aaron and he has really taught me a lot about singing and music.
I used to have problems with my vocal placement, not knowing where my voice would make the transition from the weak to the strong sound. Aaron taught me how to use this to my advantage and make this my unique trademark whenever I sing! Now I am proud of my singing abilities and I cannot wait to perform at our next school performance.
I used to sing with my throat and was unable to hit the high notes without straining them.
This made it difficult for me to hit them and made my throat sore and coarse everytime I tried. Aaron taught me how to relax my throat when singing and this allowed me to hit notes that I have never hit before with greater ease. I am looking forward to singing higher difficulty songs with much ease.
I first started learning from Aaron just to take part in a competition.
He taught me how to pick songs for the competition, and also how to choregraph my movements with the song to make my performance more engaging and entertaining. His techniques made me confident on stage and I eventually won that singing competition as well as a recording contract with an artiste management company! I am looking forward to learning much more from Aaron and become a successful artiste.
Great drum teacher (Zhi Yang) for my kid. My kid is so excited for lesson every week and is able to pick up drumming and play a song in just 4 lessons.
The service provided by Audrey is excellent. She provides useful information about the teachers and tries her best to cater to our needs. My daughter enjoys her lessons with teacher Breyann. He's kind, friendly and very good at teaching. He selects songs according to the strengths and weaknesses of his students, which helps them improve their skills in the long run.
Engaged Eugene to teach my daughter to play the saxophone over 2 years ago and he's still teaching her now. It was a great recommendation by Absolutely in-Tuned, thank you!
Get matched with the right Music Teacher now! Simply fill in the contact form below and we'll be in touch!
By submitting this form I consent to the collection, processing, use and disclosure of my personal data by absolutelyintuned.com.sg for the purposes set out in this form and within the conditions set out in this form and absolutelyintuned.com.sg 's data protection policy.
(All fields are mandatory)