Why Choose Us?
Absolutely In-Tuned is an established music agency providing home-based lessons for many households in Singapore. Since 2007, we have been helping parents, children, teenagers and adult music enthusiasts from all walks of life fulfill their musical dreams. Feed your soul and learn an instrument today! Guaranteed agency support at all times.
Find yourself a music teacher in 4 easy steps!
Step 1: Request for a Teacher
Let us know which instrument you are interested to learn. Fill up our Teacher Request Form and you are done within 3 mins! We will do the rest!
Step 2: Hear From Us
We will sift through our extensive database and shortlist some suitable teachers for you to choose from.
Step 3: Choose
Choose your music teacher by looking through the various profiles and rates.
Step 4: Hire
Set up your first appointment with your music teacher and commence lessons!
Get matched with the right Music Teacher now! Simply fill in the contact form below and we'll be in touch!
(All fields are mandatory)
Testimonials from Happy Students!
"Best Guitar Teacher Ever! I was unhappy with my previous guitar teacher who was not helping me much with my progress. Audrey found a suitable guitar teacher within 1 day and he is brilliant! He is so experienced and makes the lessons fun. I really enjoy every lesson so much!"
"Playing Songs Is Such A Breeze Now! Pretty amazed with the service. Found me an excellent guitar teacher located in my area, within 1 hour. My guitar teacher Chin is very patient and understanding. And he is able to explain concepts well. I have learnt to play the songs by myself, within one month!"
"I perform for the church now! As the key guitarist! – I always played a few chords here and there. Finally took the plunge to learn lessons. Now, my skills have improved dramatically and I'm serving my church through music."
"I'm rocking Like A Rock Star Now! – Taking up the guitar lessons is one of the best decision as I am loving every minute! I can play all my favourite rock songs now. Its fun and makes me feel like a real star! In fact, i plan to join a competition shortly!
"Playing My Favourite Jazz Songs – After 1 Month! Finally got down to registering myself for guitar lessons. Now, I love playing my fav jazz songs during my leisure time. Very professional jazz teacher and I enjoy every lesson. Worth every dollar and minutes!"
Now, I Am A True Blue Jazz Guitar Player! – After failing to learn it by myself, I finally gave up and signed up for lessons. Within 1 month, I overcame all my challenges and was playing beautifully. In the 2nd month, I started my own band and love jamming with them during weekends. Now, we are even thinking of performing live! How amazing my progress has been!Thank you for introducing the amazing guitar teacher!
I have been looking around for private guitar lessons to accommodate to my busy schedule. Jeff makes the lessons very fun and enjoyable.
Impressed By My Teacher's Teaching! Inspired by rock stars, I wanted to learn to play the electric guitar as quickly as possible. My guitar teacher, Adrian impresses me on how he simplifies playing the electric guitar through his teaching!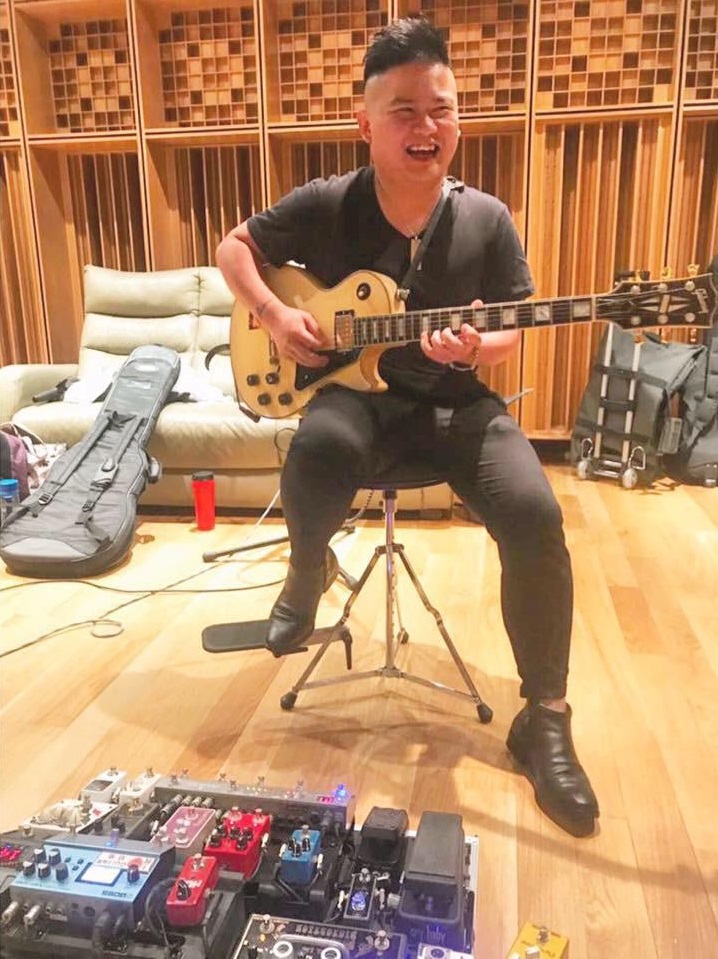 Alex G. Lim
Alex is an extremely skilled and knowledgeable guitarist who knows his game inside out. But it doesn't stop there, skilled guitarists May or may not be great Teachers, Alex's expertise stretches beyond his own skill to exceptional teaching and observational skills which not only identify what you're doing wrong but also on how to correct it.
He is extremely patient and never puts you down. He is committed 110% to your time and does his level best to help you make the most out of it. After just one session he knows your potential more than you do yourself. After just 3/4 lessons I already felt that I have achieved things that I thought would only come to me after slogging through 10 maybe 15 lessons.
He has no pet subjects or exercises, rather a whole Arsenal of exercises which he develops on the spot for you to build on what you're lacking using just his observation. He doesn't stop at just making you learn a song but in fact the value that you get out of a song in terms of playing techniques and exercises which would then help you towards other songs and future goals.
The sense of achievement and progress you get out of every lesson has no price to it.
When you are in a mental block and unable to move on, he explains things in such a simple way that just clears the fog in your mind and helps you breeze through what you thought was an unsurmountable obstacle. He has a way of letting you learn from self-discovery instead of butting in every now and then to tell you what you're doing wrong unless he really needs to. This for me is the best form of adult learning which actually sticks stronger than just following someone's commands.
My utmost respect for Alex stems from the fact that he Focuses on making you an independent learner rather than relying on his lessons solely which goes to show how selfless and how much of a true guru he is.
Finally I must say that I am so lucky to have met him, and my opinion gets solidified even more when I speak to some of my other friends who tell me about their experiences with lessons.
All in all a godsend for all guitar learners!